Joystick
Joystick Tester
If you plan on using a joystick to control your platform make sure you can see the joystick with this tool first.
sudo apt-get install jstest-gtk
jstest-gtk
If the ROS package is running you can run this command:
rostopic echo /segway/cmd_vel
Hold the deadman and move around the joystick. If it's working you should see commanded input.
Buttons For Logitech F710/F310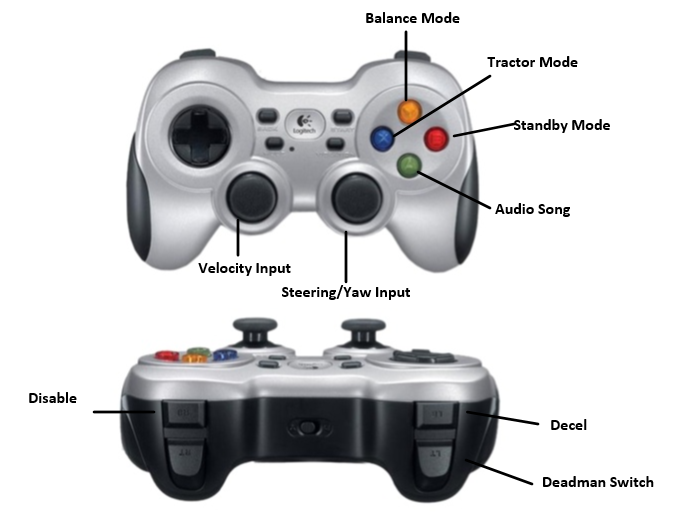 The mode light should not be lit If you are having trouble ensure that the mode light located on the top of the joystick is off.

Basic xbox360 style operation

1 button is Tractor Mode
3 button is Standby Mode
4 button is Balance Mode (only for the 220)
Left Trigger is deadman (must squeeze to command motion)
Right Trigger is manual override for assisted teleop
Left DPAD makes a catcall
Left joystick forward/back +/-x linear velocity
Left joystick left/right +/-y linear velocity (only for OMNI)
Right joystick left/right +/-z angular
LB Decel to disable emergency response
RB Decel to zero speed emergency response
Start button Powerdown request
Buttons For Logitech Extreme 3D PRO
It's possible to use this joystick but you'll need to ensure the correct settings / mapping are applied. Its best to use the F710 listed above if you are unsure.